Sure, traditional smores are delicious. We hope everyone's childhood is filled with memories of over-charred marshmallows, melting Hershey's chocolate, and crumbly Graham Crackers. There will always be a place for these treats. However, have you considered banana boat smores as a fun new alternative?
What are banana boat smores you ask? Well, basically it is simply a banana cooked over the fire. What makes it magical is the nearly unlimited toppings that can make each banana unique. For the uninitiated, a warm banana may not strike you as especially appealing. But trust the history of millions of SE Asians who regularly serve up fried bananas as their favorite dessert treat.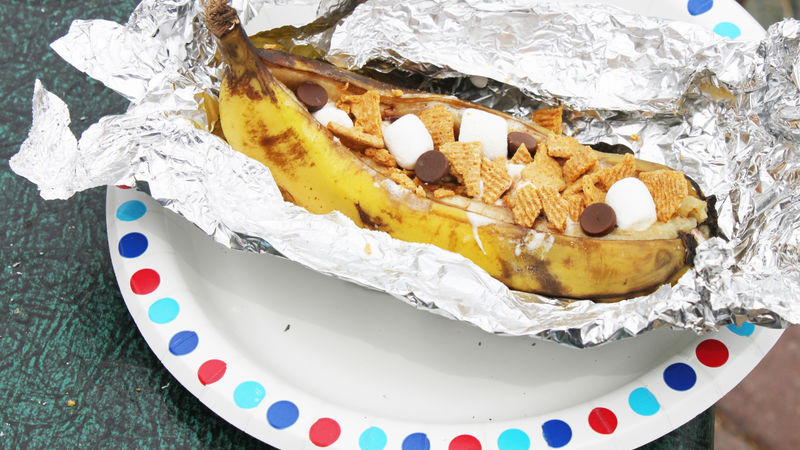 Making banana boat smores is simple as can be and the end result is far less messy than a handful of crumbled Graham Crackers, melted chocolate, and sticky marshmallows. Here is the basic "recipe" for a smores flavored banana boat courtesy of Kitchen Concoctions, but getting creative is part of the fun so try out any toppings that suit your fancy.
Smores Banana Boats
1 banana per person
2 tablespoons miniature marshmallows
1 tablespoon semi-sweet chocolate chips
1 square graham cracker, slightly crushed
CAMPFIRE METHOD:
Keep peel on banana; slice lengthwise and lift up flap of peel, slice banana to insert marshmallows and chocolate chips into the sliced banana.
Replace peel flap and wrap banana with foil. Let the flames die down before adding banana packets directly to fire.
Cook 3-5 minutes, or just until soft and slightly melted. Use tongs to remove from fire. Carefully unwrap and unpeel banana to eat with a spoon.
Be sure to add the ingredients for traditional smores to your camp packing checklist, but perhaps this year try out this new twist on an old favorite as well!