Camp Cooking. There is almost nothing like enjoying a meal surrounded by nature. Some days it is a joy to spend a lazy afternoon around a Dutch Oven or planning a more elaborate dinner. But, let's be honest, many days at camp are filled with water fun, outdoor activities, sun, and perhaps day drinking and it's great to have a few quick and delicious meals in your repertoire. Enter one of the best chicken dishes you will ever taste.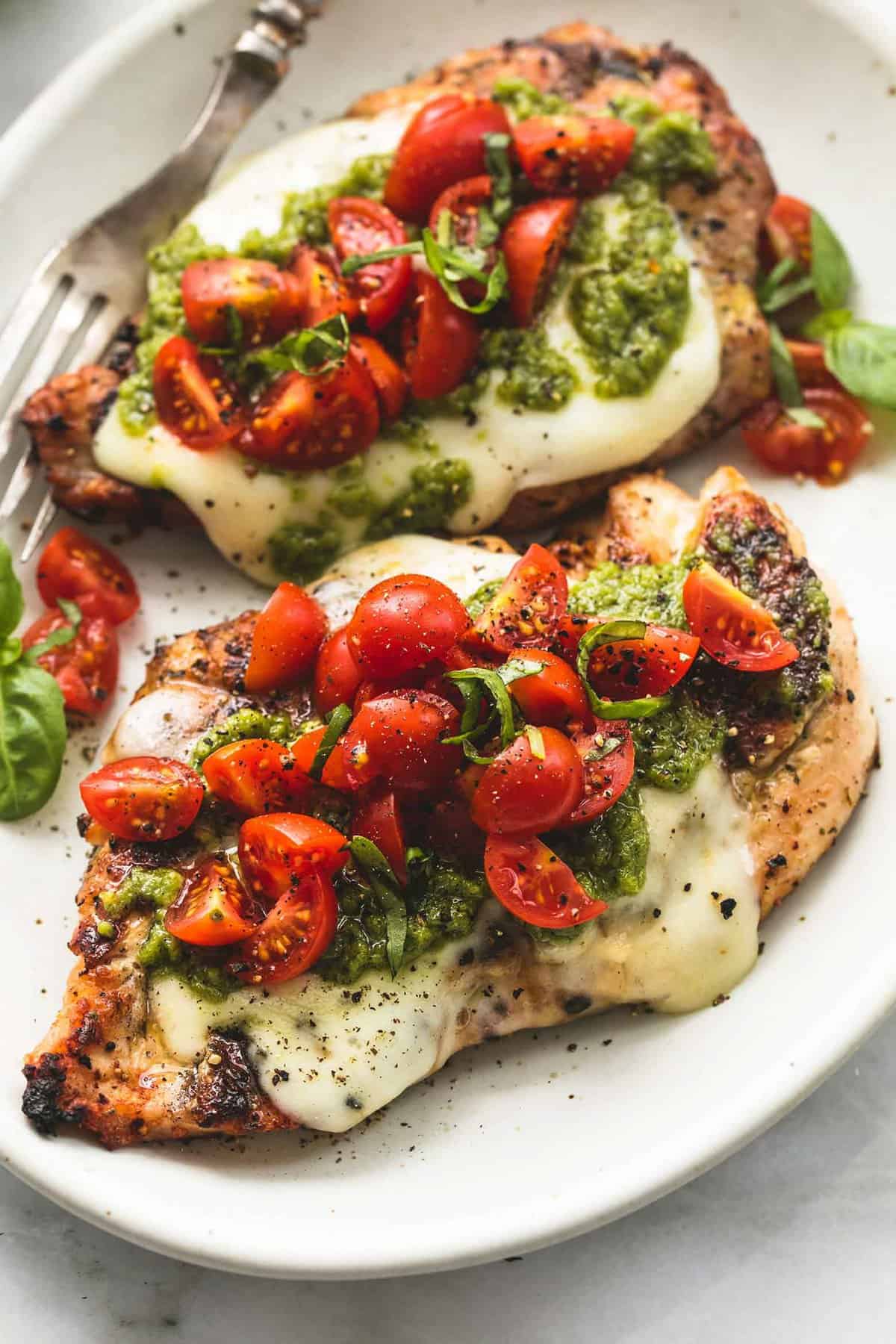 One of our very favorite cooking blogs here at Camp Coeur D'Alene is Creme de la Crumb. Loaded with amazing recipes, there is always something for any tastes and her 30-minute meals section is always popular.
One dish we make again and again is the Grilled Chicken Margherita. Even the pickiest family member can embrace the succulent grilled chicken, summer-inspired pesto, gooey mozzarella, and ripe cherry tomatoes. Add a side salad and some garlic bread and dinner will be served before you know it.
GRILLED CHICKEN MARGHERITA
Ingredients
4 boneless skinless chicken breasts, pounded to less than 1 inch
thickness
salt and pepper to taste
2 tablespoons olive oil
1 teaspoon garlic powder
1 teaspoon Italian seasoning (OR ½ teaspoon dried oregano + ¼
teaspoon dried basil + ¼ teaspoon dried thyme)
4 slices mozzarella cheese
½ cup basil pesto (try my easy 5-minute pesto recipe – it's the best!!)
½ cup cherry tomatoes halved
1 tablespoon fresh lemon juice
¼ cup packed basil leaves, very thinly sliced
cracked black pepper
Instructions
1. In a large bowl combine chicken, salt and pepper, olive oil, garlic powder, and Italian seasoning. Toss to
combine.
2. Grill chicken over medium-high heat for about 6-8 minutes on each side until cooked through. Top each
piece of chicken with a slice of mozzarella cheese and cook another minute or so until melted.
3. Toss tomatoes, lemon juice, and basil together. Top each chicken breast with about 3 tablespoons pesto, a
scoop of tomatoes, and some freshly cracked black pepper. Serve immediately.
*** Using a purchased pesto is absolutely acceptable, but if you're interested in Tiffany's amazing homemade version, check out this simple, do-ahead, recipe below. **
EASY 5-MINUTE PESTO
Ingredients
1 cup packed basil leaves
¼ cup Diamond of California Pine Nuts
1 tablespoon minced garlic
⅓ cup extra virgin olive oil
⅓ cup shredded parmesan cheese
½ teaspoon salt (or to taste)
¼ teaspoon black pepper
½ teaspoon fresh lemon juice
Instructions
1. Add all ingredients to a food processor or blender. Pulse until smooth. Serve immediately or cover and
store chilled.
Notes
Yields about 1 cup of pesto.
If you want to be conservative on the salt, start with ¼ teaspoon. Taste and add more as desired.
Additional lemon juice can be added for a more "lemony" flavored pesto – so good!
Camping season is just around the corner! We will continue to share easy, family-friendly recipes to make camp cooking delicious.